As power tool users, the chainsaw is the one device that can cut through those tough jobs like no other tool in your garage.
As fast and forceful as it is, you'll need to be using the correct techniques on how to use a chainsaw and the best safety equipment as possible. 
Working with chainsaws is a hazardous task, and we want to ensure you avoid undue accidents and injuries. Any tool has the potential to impose harm. Thumbs can be mashed with hammers, wrenches skin knuckles, but chainsaws are a beast all of their own. We're talking razor-sharp teeth moving only inches from your flesh, and small pieces of wood flying at high-velocity speed. Not to mention the tension a fallen tree or limb has when it springs back, catching you in its path.  
We don't mean to scare you, but we want you to be aware of the danger that can be had if you don't take into account proper safety techniques and equipment. There is a skill involved in safely operating a chainsaw. 
Please be aware we are sharing only the basics of how to use chainsaw principles, and it takes years of use to become proficient in your chainsaw skills. 
Basic Chainsaw Safety 
Personal Protective Equipment – (PPE)
Even the simplest job can turn into a tragedy if you don't take the time to suit up properly. Eye protection, ear protection, hard-hat, steel-toed boots, long pants, long sleeve shirt, gloves, and chainsaw chaps are a must.
Environmental Safety
Look up and down and all around. Is there a clear path for the tree or branch to fall? Is the tree weakened by bugs or disease? Is the wind blowing in the opposite direction of how you want the tree to fall? Power lines, neighbor fences, and roofs are your biggest concern.
Inspect Equipment
Is your chainsaw in working order? Is the chain sharp and the tension correct? Have you checked the lubrication oil? Chainsaws are meant to run out of gas, but the bar oil running out could cause severe damage to your saw. Always fill both gas and oil on the ground and not on the back of a truck, and be sure you have allowed it plenty of time to cool down before refueling.
Chainsaw Handling
Some basic common-sense rules apply when it comes to chainsaws. Watch where you're walking for tripping hazards, maintain a sound footing, and ensure you have proper balance when cutting overhead.
Pinching and Kickbacks
No matter how excellent your skills are, you will experience kickbacks and pinching. When the bar tip hits an unforgiving object or it is pinched, the energy of the saw will force the blade toward the operator. Be aware of the position of the tip at all times. Be alert to situations that will cause the bar to pinch.
Most chainsaws have safety equipment built-in

The kickback guard and chain brake ensure the chain stops if the saw isn't handled correctly or in case of a kickback
The throttle lock is designed so that the saw only functions when you keep pressing a certain button
The chain catcher stops the chain from flying off in case of chain break or derail
The right-hand guard protects your right hand in case of chain break or derail
The easily accessible stop control allows you to stop the chain instantly
Lastly, have your equipment checked often. Your chainsaw is equipped with safety features, so make sure it is inspected regularly.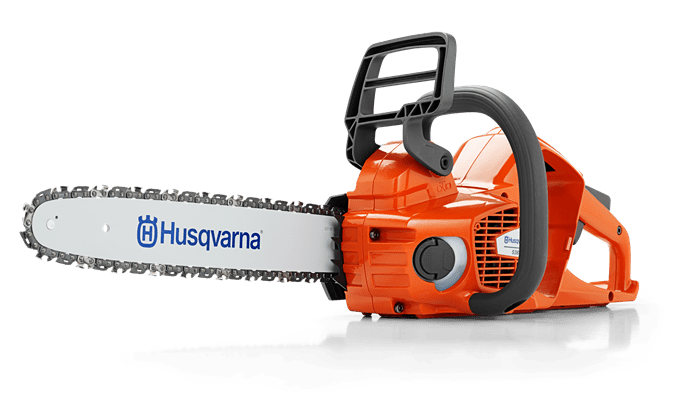 HUSQVARNA
550XP
Husqvarna 550 XP® is developed for tree care professionals and skilled land owners.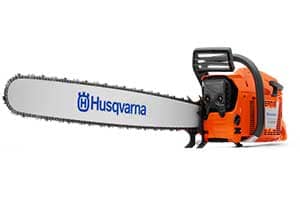 HUSQVARNA
3120XP
Our largest chainsaw is one of the most powerful in the world.