The best fuel for your power equipment.
We've all done it …pulled up to the pump with our gas can in hand without giving much thought to what our power equipment needs to keep it running smoothly. The worst thing for your equipment is using a non-approved fuel, which in most cases will void your warranty.
So, beware! Read your owners' manual before you pump.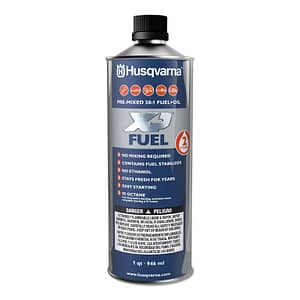 Fuel for your power equipment must meet certain requirements and will be detailed in your operating manual.  For most equipment, the following requirements are typically suggested:
Use clean, fresh unleaded gas.
Use only 89 octane or higher fuel.
Never use fuel that contains more than 10% ethanol.
Only buy enough to last less than thirty days. Older fuel can cause engine damage and add gum deposits in the fuel system and carburetor.
Use a clean or new fuel container.
When not in use drain the fuel tank and carburetor before storing equipment.
For 2-Cycle applications, a canned fuel product such as Husqvarna XP+ Pre-Mixed Fuel is a good choice. Canned fuel is ethanol-free unleaded gasoline that is pre-mixed with oil to exact specifications and includes an added stabilizer to prolong the life of the fuel, and Husqvarna's XP+ line of pre-mixed fuels use 95 octanes, ethanol-free fuel mixed with premium Husqvarna JASO-FD oil and stabilizers that keep the fuel fresh for years.
All fuel is not the same.
The gas additive, ethanol, can be found everywhere. Most gas contains a blend of gasoline and ethanol. The percentage of ethanol is indicated by the "E" number. In your vehicle, ethanol fuel won't do much harm to your car's engine. However, if used in your outdoor power equipment, you risk damaging your engine, which can result in costly repairs.
If you start to experience performance problems, change fuel providers, or change brands. Engine maintenance and fuel requirements vary from equipment to equipment. Follow your manufactures instructions for use, maintenance, and fueling requirements.
Read your owners' manual thoroughly and know the level of ethanol your equipment can safely use. High levels of ethanol can damage small engines, and fuel-related problems are not covered by your manufacturer's limited warranty. The manufacturer cannot control what brand of fuel you put in your equipment, or how old the fuel is.