It's that time of the year when lawn care professionals and homeowners hope for a shiny new lawnmower under the tree.
Do you know someone who loves taking care of their yard, and who is hard to buy for?  We bet you do.
Instead of wasting your money on household gadgets or the latest fitness equipment, how about surprising your lawn care enthusiast with a new lawnmower. 
To make your shopping trip easier, we have come up with a list of items to look for when choosing the right mower.
What to look for in a new lawnmower:
Size Matters – If you're trying to decide on a push mower versus a riding mower, here are a few things to keep in mind. Push mowers work great for lawns less than ½ acre. Lawns bigger than that will require a riding mower.
Flat or Hills? – Depending on the terrain, you'll need to decide if a standard push mower will do or if a self-propelled mower is called for. Yards that are relatively flat and easy to navigate through will do fine with a conventional push mower. However, if the lawn has hills and steep inclines, you may want to choose a self-propelled mower. If your yard has lawn features such as flower beds, trees, and other lawn decorations a zero-turn mower would work better.
Gas or Electric? – Which do you choose? Gas lawn mowers typically have more power and can last for the duration of your mowing session, but come with more complicated maintenance. An electric mower is perfect for small jobs and come with electric starters that are easier to operate. Cordless electric mowers are much quieter and cleaner but do not have as much power as gas engines.
Mowing Deck – A bigger deck means a wider mowed path. Mowing decks range from 20" to 70" and most home use lawnmowers are in the range of 30" to 60". A wider deck does cut a wider path, which can mean it will take less time to cut your lawn, but that is if your yard is relatively flat. A larger deck means it will be harder to mow around tight spots but is perfect for large lawns.  A smaller deck is more suitable for yards that have many obstacles to mow around.
To Bag or Not to Bag – Mowers come in an array of grass clipping options. The least expensive is a side-discharge mower, which spits the grass back into your yard. The cut grass acts as a fertilizer and can help nourish your lawn.  However, if the clippings are clumped together and leave large piles throughout your yard, those solid clumps can harm your lawn by killing the grass underneath. Some homeowners like the manicured look and prefer to bag the clippings leaving the lawn looking clean. More extensive yards will require emptying the bagger multiple times. You'll need to compost or find a way to recycle the lawn clippings if you choose to bag.
All the Extras – Some mowers come with an array of attachments to choose from to increase the utility of the machine. Dump carts, rakes, lawn aerators, spreaders, and lawn rollers, to name just a few.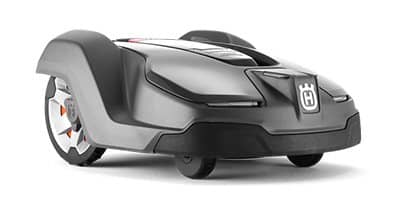 If you want to make a hit this Christmas, how about surprising someone with the latest in lawnmowers.
The new AUTOMOWER® makes mowing grass a thing of the past. Now you can get a robot to do it, and it doesn't mind spending the day out in the Jacksonville sun.  As sleek as a racing car this little robotic automower roams around the yard as you sit back and watch it do all the work.